Annual Campaign coming up !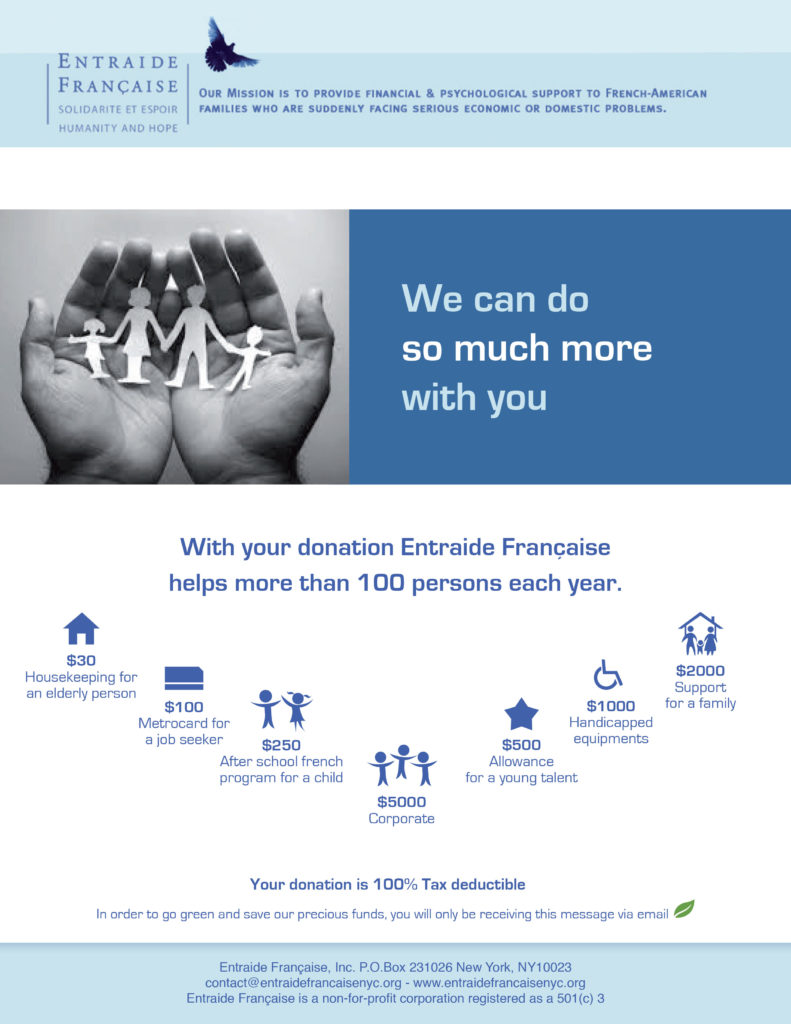 You, our donors, are the sole source of revenue for Entraide Française. Therefore we are very grateful to you for responding to our annual appeal, allowing us to come to the aid of ever more French American people in need.
Any amount is appreciated. Thank you!
100 % of your donation is tax deductible.
Donate By Check :

 

at Entraide Française, P.O box 231026, New York, NY 10023 
Corporate Matching Gifts : Corporate matching gifts are a great way to you to maximize personal contributions to EF and increase the impact of your gift. By taking advantage of a company's matching gift benefit, you may be able to double or even triple the amount of a contribution.

Give on amazon :

 

If you want Amazon to donate to Entraide Francaise Inc, you need to start each shopping session at the URL http://smile.amazon.com, and we will donate 0.5% of the price of your eligible purchases.


AmazonSmile: You shop. Amazon gives. 

smile.amazon
Planned Giving:

There are many forms of planned giving that are simple yet gratifying, and do not sacrifice income or security for your own family. All it takes is some basic planning:

Naming American Fund of EF as a beneficiary of your will, by setting aside a certain dollar amount or leaving a percentage of your estate/assets.
Naming us as a beneficiary of an existing life insurance policy, an IRA, 401(k), 403(b), or other qualified pension plan.

Please Note:

 

Donateurs names are published on our annual report unless they request in writing or email to be anonymous. Do not hesitate to let us know if you do not want to be named. contact@entraidefrancaisenyc.org