GALA AT THE FRENCH CONSULATE 2017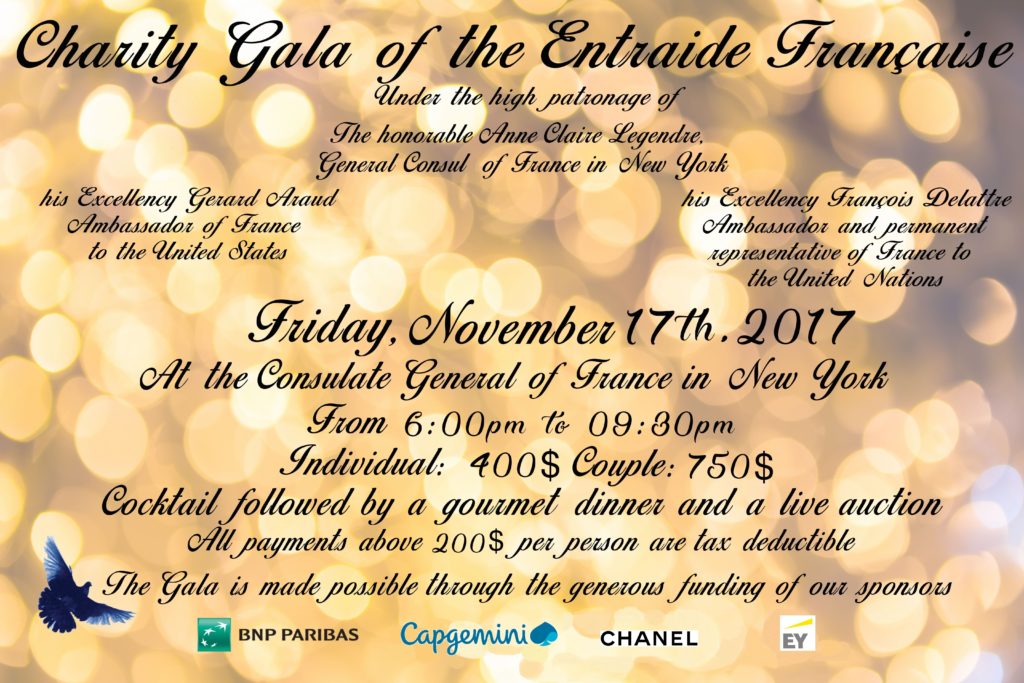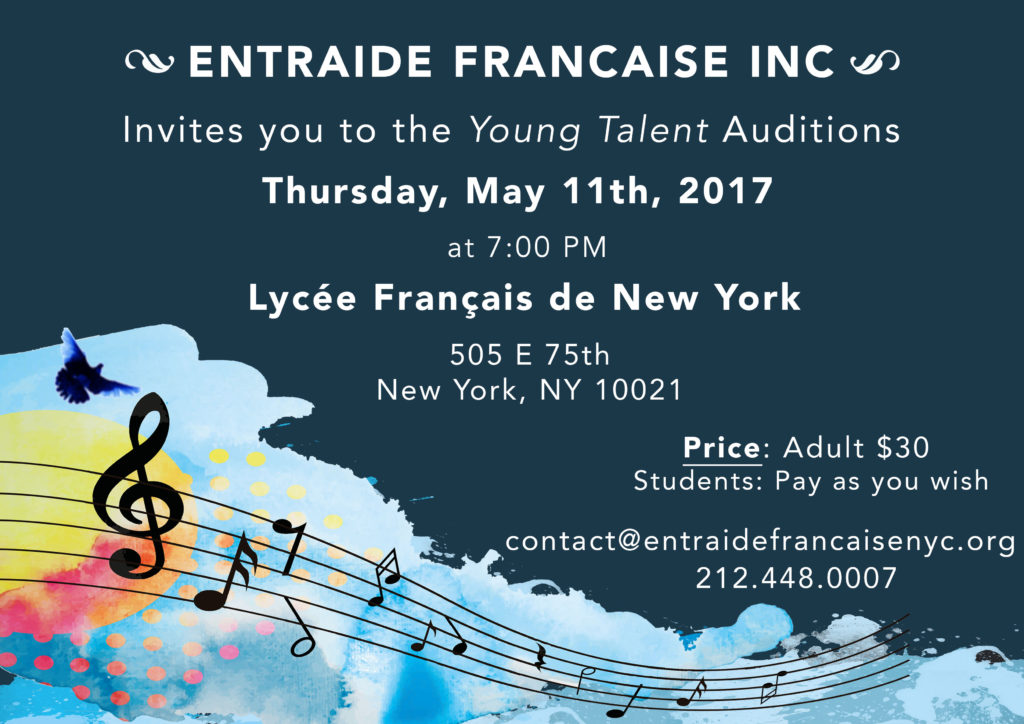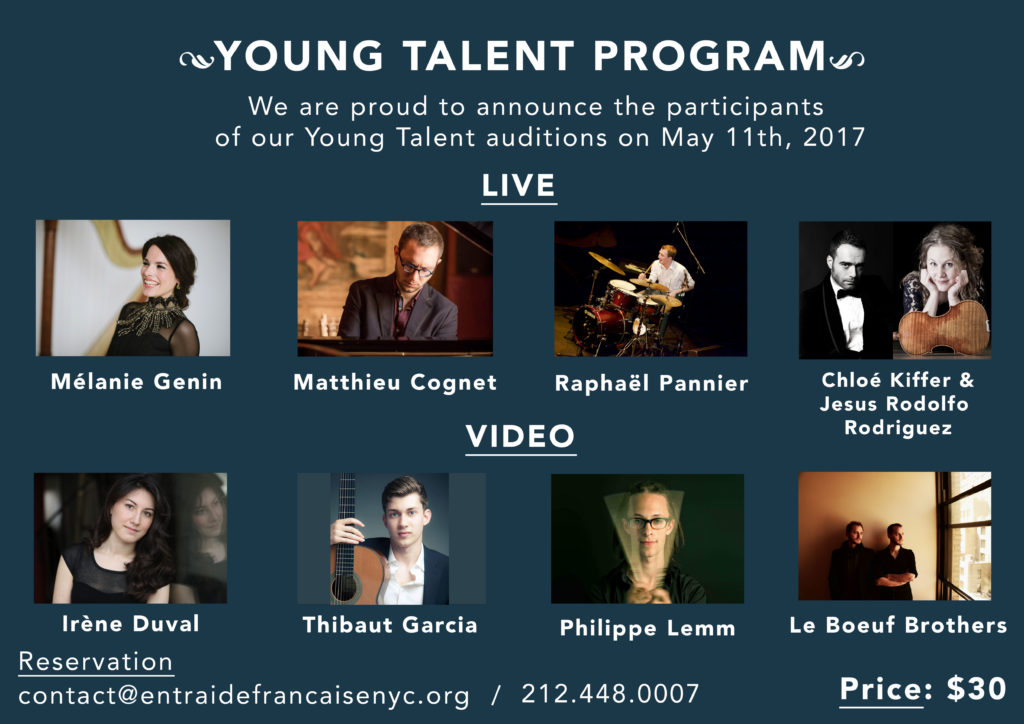 Bravo to Matthieu Cognet and Thibaut Garcia, young talents 2018.
SPRING YOUNG TALENT CONCERT
Bravo a Virgil Boutellis – Taft, le talent 2017 de l'Entraide Francaise.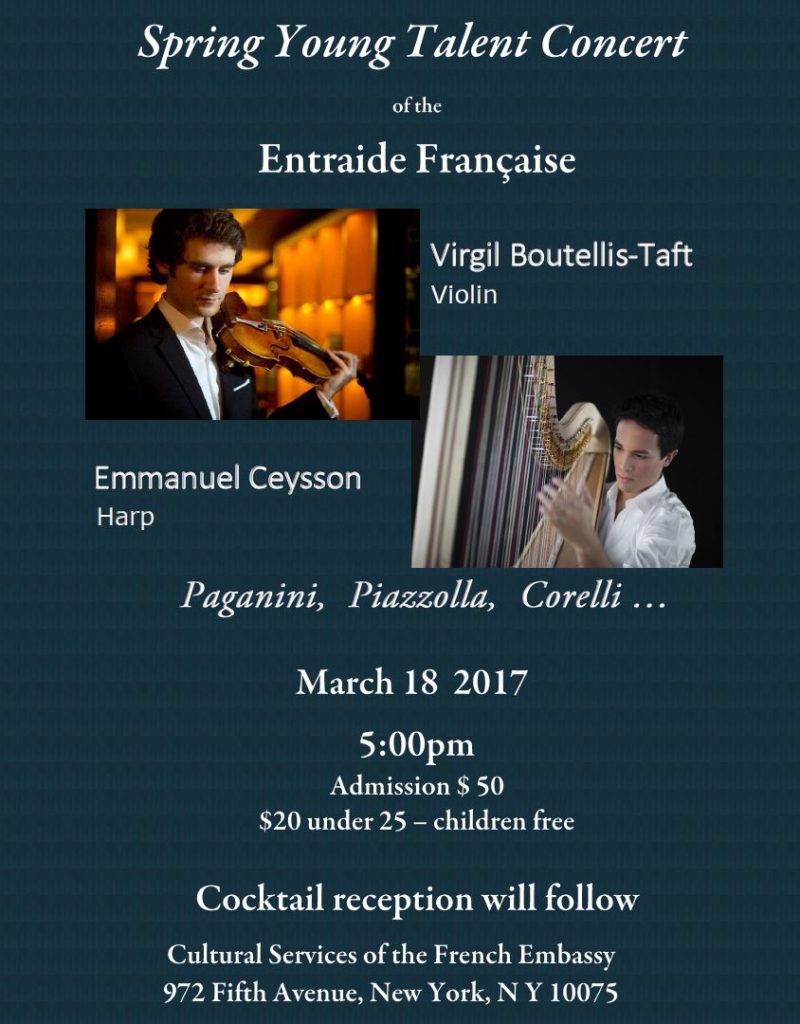 Programme :
Corelli La Folia
Bruch Kol Nidrei
Piazzolla Café 1930
Paganini Sonatina 6
Massenet Thais
Bartok Romanian Dances
GALA AT THE FRENCH CONSULATE
Thursday, November 17th, 2016 from 6.30PM
Thursday, July 7th, 2016 at 7PM
BENEFIT CONCERT "YOUNG TALENTS CONCERT 2016"        
Wednesday, April 20th, 2016 at 7PM
G. Fauré, Sicilienne
S. Rachmanninoff, Vocalise
L. Spohr, Variations on "Je suis encore dans mon printemps" (solo harp)
C. Saint Saens Fantaisie
E. Ysaye, Sonata #4 (solo vioin)
A. Piazzolla, Histoire du Tango: Bordel 1900, Café 1930 and Nightclub 1960
Holiday Fair"
Saturday, Dec 5th, 2015 at 10 AM – 6 PM
CONCERT : CHLOE KIFFER young talent of the ENTRAIDE FRANCAISE. Soloist at Carnegie Hall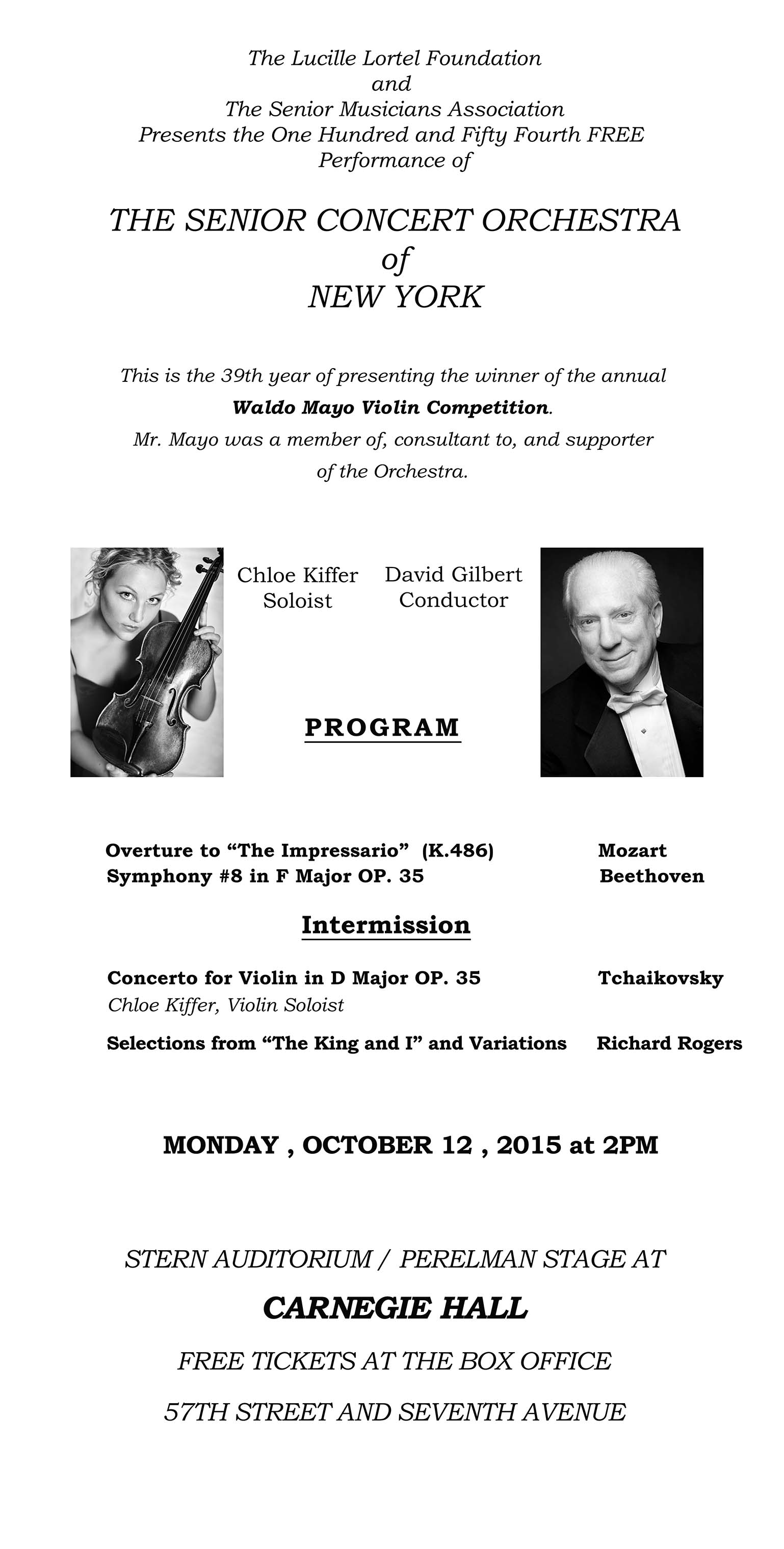 SUMMER CONCERT OF THE FRENCH-AMERICAN CHOIR OF NEW YORK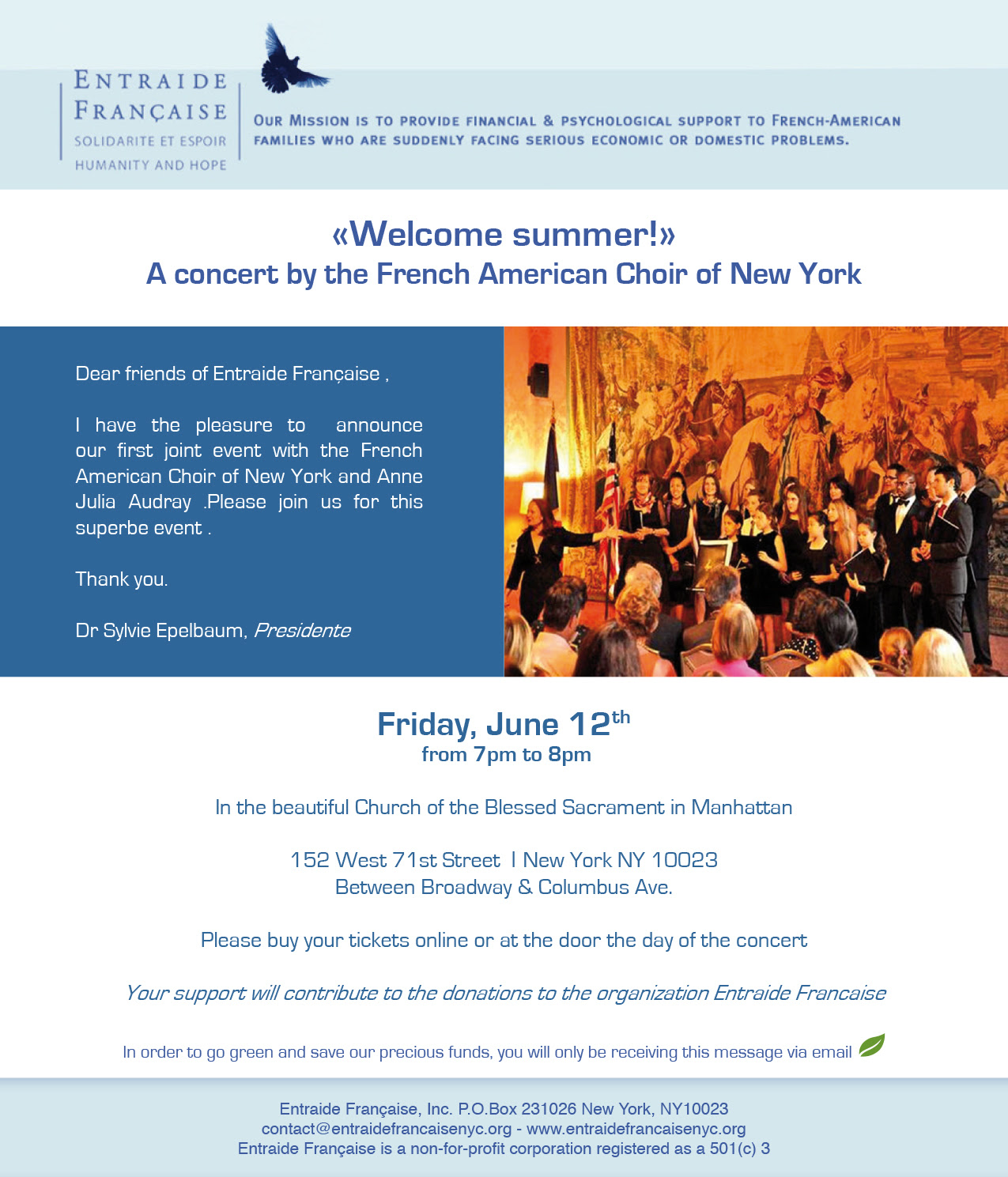 BENEFIT CONCERT "YOUNG TALENTS 2015"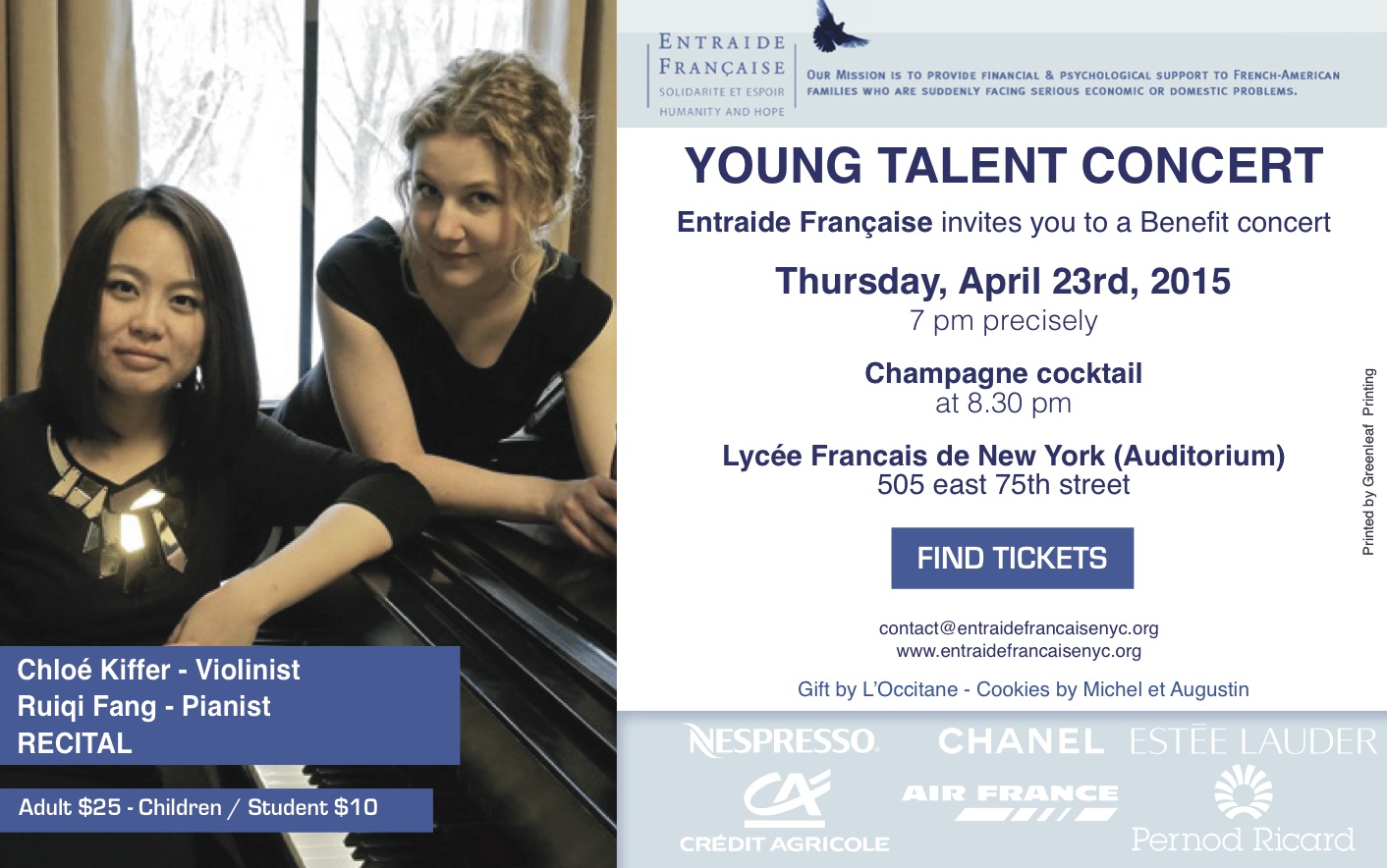 Thursday, April 23rd, 2015 at 7PM 
Lycée Français de New York
505 East 75th Street – Auditorium
With Chloe Kiffer au violon et Ruiqi Fang au piano
BENEFIT CONCERT "YOUNG TALENTS 2014"        
Saturday, April 12th, 2014 at 5PM
PROGAMM VIOLIN RECITAL:
Tomaso Vitali Chaconne 12′ –
Ludwig V.Beethoven Sonate NO.8 en sol majeur 20′ –
Witold Lutoslawski Subito 5′ –
Ottorino Respighi Aubade et Humoresque 8'30 –
Maurice Ravel Tzigane 10′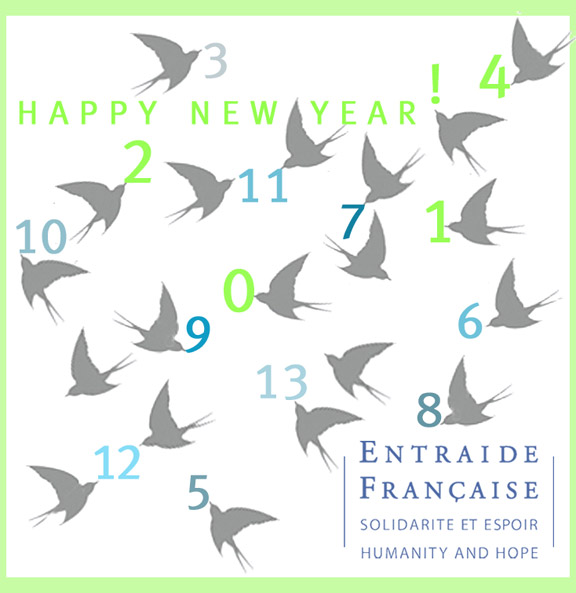 2 0 1 3 …
Film Festival: "In French With English Subtitles" December 6, 7 & 8th, 2013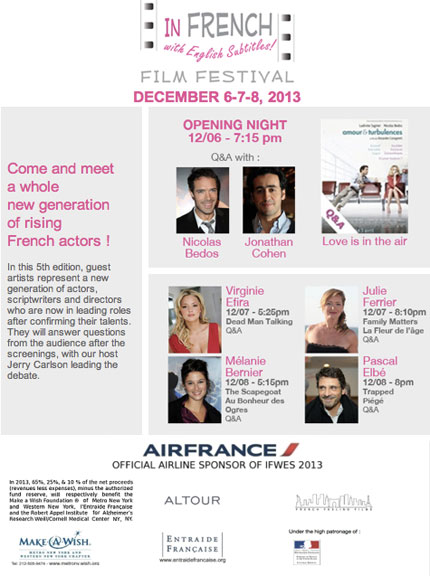 Our Charity Gala on October 8th 2013 was a great success,


Thanks to your generous support.
Charity Event Tuesday October 8th, 2013, 6:30-10PM

at the French Consulate, 934 Fifth Avenue, New York City.

REGISTER HERE!
2 0 1 2 …
November 30th 2012, Gala for the launching of the 4th edition of the  unique French Film Festival in New York City. Ticketing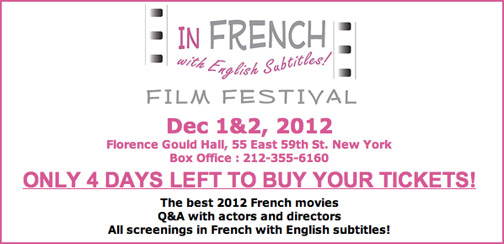 November 20th 2012, Entraide Française's annual benefit
September 21st,  launching of  Romantic Trumpet at 44th street, the first concert of the "Young Talents" Series featuring Maximilian Morel, trumpet and Zachary Hughes, piano.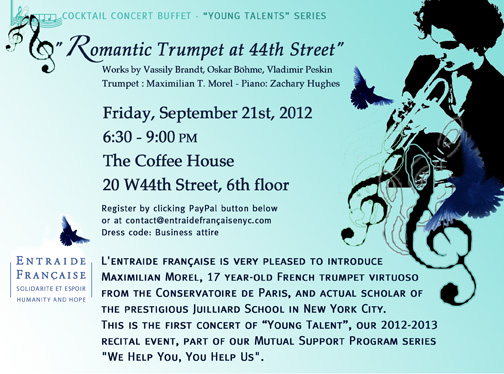 Lycée Français de New York: Wecome Fair September 12th, 2012
2 0 1 1 …
December 2nd, 3rd & 4th, a unique French Film Festival in New York City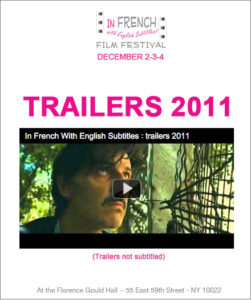 In French With English Subtitles ( IFWES) will present its third annual film festival December 2nd, 3rd, and 4th , 2011 at the Florence Gould Hall, located at 55 East 59th Street in Manhattan.This unique, not-for-profit film festival, backed by French actor/director, Pascal Elbe, not only appeals to francophones and francophiles alike, but it is organized entirely by a team of volunteers who donate the net proceeds to charity.The weekend's line-up of nine newly released french films promises to be an exciting one, launched by a Gala event after Friday's opening night movie.  We are  also very pleased to have with us, directors and actors, to talk with the audience about their films in Q and A periods to follow.To find out more about our exciting line-up of films, ticket information, etc, please consult our website: http://www.infrenchwithenglishsubtitles.org
October 6th, 50TH ANNIVERSARY OF ENTRAIDE FRANCAISE at the Consulat Général de France in New York
Thank you for your support and generosity and a special thank you to all our volunteers who made this unique event a great success.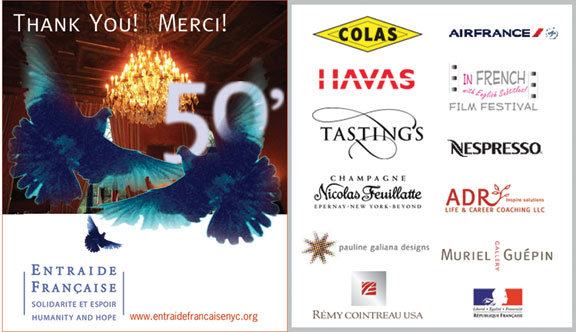 November 12th 10 AM- 4 PM, L'Entraide Française will be at the eighth annual Fall Festival of the Lycée Français in New York City
October 6th, 50th Anniversary at the French Consulate
May  13th and 14th "la Promenade des Artistes" in Mamaroneck, Accueil Westchester and Accueil New York Designers Market. 10% of sale proceeds will go to l'Entraide Française